Why the BBWAA need to get with the times
There are many things in life that annoy me: the NFL turning into two hand touch, the cold and snow of a New England winter, suffering through 30-second-long ads prior to watching a video on YouTube, Barack Obama's presidency….the list goes on forever. High on that list is the 'holier than thou' condescending attitude of the BBWAA writers. Next week, we'll find out who will be the newest members of the Hall of Fame. Why are the careers of the greatest baseball players being scrutinized and judged by a bunch of slobs who probably never played beyond Little League? I have no idea.
So basically, my contempt for their yearly charade of snubbing and/or overrating prompted me to make out my own Hall of Fame ballot. These guys are the ones who deserve enshrinement in Cooperstown.*
*Note- I won't spend a ton of time on it because he's technically not on the ballot, but it's a shame that Pete Rose is still not in the Hall of Fame. Keep him out if you must, but memorabilia and relics from Charlie Hustle's playing career are scattered, in full view, throughout the building. Credentials? Here's your assignment: go look at every single plaque in the Hall. Let me know when you're done…...Done? Good. I hope you know that Pete Rose has more hits than every guy you just saw. LET HIM IN! For that matter, let in Shoeless Joe Jackson, too.
Barry Bonds (PIT/SF  1986-2007)
Much to my dismay as a baseball fan, I'm too young to have seen all the great ones. But in my 30 years on this green and blue sphere, I have yet to see a greater baseball player than Barry Bonds. He made 14 All Star teams, won seven NL MVPs (seven!), fell just short of 3,000 career hits (2,935- the only reason he never reached 3,000 is because he was blackballed by MLB after the 2007 season) he hit .298 for his career, twice winning the batting title, hit a record 762 homers, drove in 1,996 runs, .444 OBP, slugged .607 career, and is the all-time leader in bases on balls with an astounding 2,558 walks. He was walked so much that it adds up to five Major League seasons! He missed five seasons getting walked. That's absurd. Oh yeah, and he won eight Gold Gloves for good measure. He had all five tools and was incredibly proficient in every facet of the game. Unless you've been living under a rock, you know why Bonds is not in Cooperstown already. His connection to performance enhancing drugs and his undeniable power surge late in his career are too coincidental for the men wielding the votes. There are two items here, in my opinion: one is that even though it looks like something was going on, Bonds never failed a drug test. The second thing is that probably 80% of baseball, if not more, was juicing when he played. Everyday players AND pitchers. Amphetamines, also known as 'greenies,' were quite popular in the 1960s and 1970s. Gaylord Perry doctored the ball every game he ever pitched and is a Hall of Famer. For Bonds to be singled out is ridiculous. Just so there's no confusion about his worthiness for the Hall, consider this: according to the now-famous book Game of Shadows which outlined his motives and methods for using steroids, Bonds did not begin using PEDs until after the 1998 season. Prior to that, he was a three time MVP and was the only player in Major League history with 400 home runs and 400 stolen bases. Bonds is the greatest combination of power and speed in the history of the game, and his hand-eye coordination was otherworldly. Sorry, but PEDs don't give you quintessential plate discipline. He was a jerk to the media? Get over it. We'll never see another Barry Bonds.
Roger Clemens (BOS/TOR/NYY/HOU  1984-2007)
Like Bonds, the Rocket has been omitted from baseball's greatest honor because of his alleged steroid use. Recent HOF inductee Pedro Martinez is the greatest pitcher I've ever seen, but Clemens is a close second. I'll run through the numbers, and then we'll revisit why Roger is being denied his place in the Hall. Clemens has a robust 354-184 Won-Lost record for a .658 career winning percentage. The 354 wins are the ninth-most in history (one win behind Greg Maddux); he won 20 games six times, won a record seven Cy Young Awards, seven ERA titles, and led the league in Ks five times (4,672 career, good for third all time). You know how everyone makes a big deal if a pitcher exceeds 200 innings pitched nowadays, like it's a huge accomplishment? Clemens had 15 seasons throwing 200+ innings. So why is the gold standard for a power pitcher not in the Hall? Because the public and the writers are so paranoid about steroids and the stigma attached to them that they refuse to acknowledge facts. This is going to sound repetitive, but Clemens never failed a drug test. Okay, Bonds was fishy because he clearly got bigger. But, you can go back to 1990 and the Rocket was still a big dude. So showing up at Jose Canseco's pool party automatically means that he's taking needles in the butt? Because his shady, untrustworthy trainer allegedly had a syringe that he used on Clemens in 1998, that means Clemens was juiced? Let's be real here: he probably did. But according to aforementioned shady trainer Brian McNamee, Clemens never touched so much as a protein shake until 1998. Clemens won the Cy Young in 1998 with Toronto, when he was supposedly using. He also won it the year before in 1997, when he supposedly wasn't using.
1997: 21-7, 2.05 ERA, 9 CG, 264.0 IP, 292 Ks, 68 BB
1998: 20-6, 2.65 ERA, 5 CG, 234.2 IP, 271 Ks, 88 BB*
If he was juicing, then Roger should get his money back because he was better without them. The obsession over PEDs needs to end, and the great players need to be enshrined regardless of whether they used or not. Getting caught red-handed is one thing, hearsay is another.
Ken Griffey Jr. (SEA/CIN/CHW  1989-2010)
This is Junior's first year on the ballot and he should be the clearest, controversy-free choice. Did any player ever have a prettier, more fluid swing than The Kid? Griffey was the prototypical player's son, and was the first overall pick in the amateur draft in 1987. The 13-time All Star hit .284 lifetime with 630 homers (currently sixth all time), 2,781 hits, 1,836 RBIs, .370 OBP, and slugged .538. He won one MVP in 1997 (.304/56/147), and won 10 Gold Gloves, tracking down anything hit to left center, right center, or dead center. When you recite all of those phenomenal stats, you would never think that 'what if?' would be applicable with Ken Griffey Jr., but it is. After Seattle dealt Junior to Cincinnati prior to the 2000 season, Griffey began a steady decline and never regained his peak form. For six seasons between 2001 and 2006, Griffey missed 309 games; so let's call it two missed seasons based solely on injuries. With his career averages, we're talking about 700 homers, 3,000 hits, and 2,000 RBIs. How differently would Junior be viewed had he stayed healthy those years an extended his peak a little bit longer? My guess is slightly better. Anyone who watched him in his prime knew and appreciated that they were watching a once in a generation talent. I think baseball is loaded with exciting young stars today, guys such as Mike Trout, Bryce Harper, Manny Machado, Eric Hosmer, Anthony Rizzo, just to name a few. Nobody I just named was better than Griffey. There has never been a unanimous selection to the Hall of Fame. Tom Seaver and Cal Ripken were north of 98%, but nobody has been voted in unanimously. Ken Griffey Jr. would be the perfect guy to break that trend. You watch, some moron won't vote for him because it's his first year on the ballot (yes, they're that petty), and that moron should have his vote rescinded. I'm serious.
Curt Schilling (BAL/HOU/PHL/ARZ/BOS  1988-2007)
The regular season numbers for Schilling range from mediocre to solid to outstanding, but don't scream 'Hall of Fame!' He never won a Cy Young (finished second in the voting three times), fell well short of 300 victories (216), and was a 20 game winner only three times. He wasn't dominant for long, but was one of the best pitchers of his time at his zenith. His career K/BB ratio is 4.38, which is second all time for pitchers with more than 1,000 innings pitched. He was an innings-eating work horse, making 30 starts seven times. But where Schilling shines through is his postseason dominance, something that I never feel is adequately appreciated for any player. Maddux, Glavine and Smoltz are all (deservedly so) in the Hall of Fame. Between them, they won all of those division titles and five pennants, but only won the big one once. Schilling was a member of three World Series championship teams, and he was better in the playoffs than any of them were. Go to baseball-reference and look up the numbers: his teams were 14-5 in his 19 postseason starts and his .846 winning percentage is the HIGHEST of any pitcher in postseason history with at least ten decisions (11-2 overall). Of those 19 starts, he allowed one earned run or fewer twelve times. Oh yeah, and he also dragged his mangled, bleeding ankle to the mound in Yankee Stadium in 2004 and shut the Yankees down to force a seventh game, which the Red Sox won en route to their first World Championship in 86 years. In the last 20 years in baseball, if I need to win a Game 7 with my life hanging in the balance, I'm taking Schilling. And nobody else is close.
Mike Piazza (LAD/FLA/NYM/SD/OAK  1992-2007)
Mike Piazza wasn't a very good defensive catcher, and at times was a defensive liability. He moved over to first base about ten years too late. He had lead feet and couldn't affect a game on the base paths. But the man could hit. Despite the defensive shortcomings, he's the greatest offensive catcher of all time, and he deserves a plaque in the Hall. Piazza made twelve All Star teams and was a .308 hitter for his career with 427 homers. Let's compare his offensive numbers with some of the other great offensive catchers of the modern era, Johnny Bench, Yogi Berra, Pudge Rodriguez and Carlton Fisk. Piazza hit 30 or more homers nine times (Bench did it four times, Berra did it twice, Rodriguez and Fisk once each) and drove in 100 or more runs six times (Bench- six, Berra- five, Rodriguez- once, Fisk- twice). Well, then. Sounds like a Hall of Famer to me.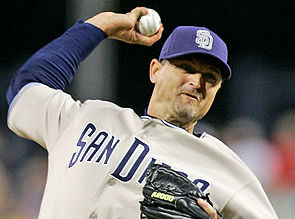 Trevor Hoffman (FLA/SDP/MIL  1993-2010)
During his career, he was the best closer not named Mariano Rivera. In his 18 seasons he only led the league in saves twice but he saved 30+ in 14 of those seasons and 40+ in 9 of those seasons. He was the first Major League closer to save 500 games and 600 games, and was the all-time saves leader until Mariano passed him in 2011. Only a handful of relievers have won the Cy Young Award which is almost exclusively a starter's award, but Hoffman still finished second in the voting twice. In addition to the 601 career saves, he also holds the highest strikeout rate of any reliever in history (9.36 K/9). Closer is definitely a position where only the elite of the elite gain access to Cooperstown. Trevor Hoffman was elite, and he is a slam dunk for the Hall.
BEST OF THE REST
Jeff Kent (TOR/NYM/CLE/SF/HOU/LAD  1992- 2008)
A terrific all around player, Kent hit .290 for his career and finished just short of 400 homers (377). He remains the all-time leader in homers for second basemen, and won an MVP in 2000 (.334/33/125). He was consistently productive and drove in over 90 runs in nine straight seasons. He never won a Gold Glove but was a solid defensive second baseman (.980 career fielding percentage). In time, Kent may get the nod, but he simply isn't as worthy as the guys listed above.
Mike Mussina (BAL/NYY  1991-2008)
Moose was one of the most-consistent pitchers of his era, with impeccable control and an array of out pitches: four-seam fastball, two-seam fastball, changeup, slider, and a devastating knuckle curve when he was on. Mussina also won at least 11 games in 17 consecutive seasons, which is an American League record. The lack of a Cy Young Award and falling short of the 300 win plateau (270 wins) will hurt his chances in the coming years, but Mike Mussina was an A+ starting pitcher.
Larry Walker (MON/COL/STL  1989-2005)
Walker was an excellent hitter, an outstanding fielder, and truly had one of the most underrated careers of his generation. He hit for average (.313 career hitter, three batting titles), he had power (383 home runs), had great speed (230 career steals), was an on-base machine (.400 career OBP), was a great defensive player (seven Gold Gloves), and even won an MVP (1997- .366/49/130, 33 steals). The lack of a major milestone, either 500 homers or 3,000 hits, coupled with the fact that his best years came in Colorado, will likely keep Walker out. Having said that, he could end up being one of the best players to ever appear on the Veteran's Committee ballot (if he doesn't make it on this one). He has another nine years on this one, so he still has a shot.
Jeff Bagwell (HOU  1991-2005)
Bagwell is probably the 'people's choice' for the Hall. Really good career numbers (.297/449/1,529), and won an MVP in the strike-shortened 1994 season (.368/39/116). Bagwell was one guy when I was growing up watching baseball where I would say 'yeah, he's a really good player, but he's nowhere near as good as (player X).'  I'm kind of surprised there's so much backlash for the exclusion of Bagwell from the Hall, a player who played 15 years and made only four All Star teams. The potential steroid taint is hanging over his head like a dark cloud, which might be a reason why his percentage is hovering around 50%. My opinion hasn't changed much with time: really good player, really good career, but not a Hall of Famer.